Why Use ASO ChatGPT Prompts?
🔥 10 hours
👆 This is how much time you are wasting weekly by using ChatGPT improperly. There is a better way.
🤖 But feeding the
right prompts

is key
The regular prompts offered few advanced features, with inconsistent output quality depending on the request. This yields only average and mediocre results.
The advanced prompts enable more features, leading to reliably improved results for many manual processes within particular domains.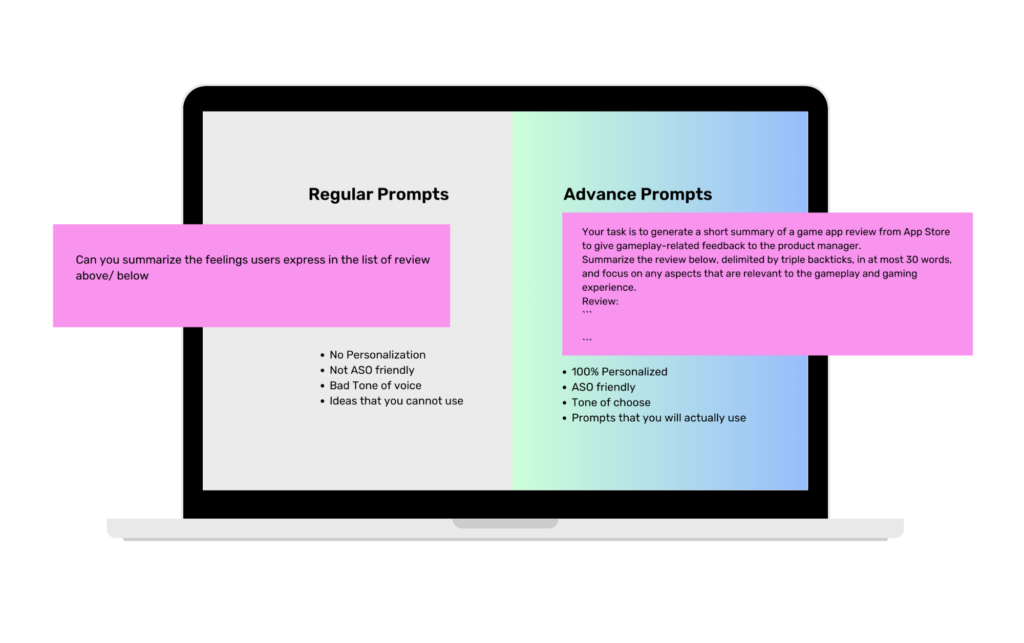 👇 One resource to rule them all, Become an expert in ASO.
Keyword Research
Keyword Brainstorming
Compare Descriptions
Local Keyword Brainstorming
App Subtitle
Short Description
Long Description
Screenshot Captions
Change Keyword Density
Localize Long Description
Add Target Keywords to Description
Add Target Keywords to Local Description
Create A/B Variations of Description
Rate Alert Copywriting
Cultural Research
Brainstorming Features
Local Keyword Brainstorming
Localizing Store Listing Creative Set
Add Target Keywords to Local Description
Summarize Reviews
Reviews Analysis
Extract Reviews
Output Feedback Response
Rate Alert Copywriting
🏂
Competitive Intelligence
Market and Competitor Analysis
Compare Descriptions
Use GPT to it's capacity, be your
ASO specialist
A carefully curated set of ASO prompts and real-world examples to put them into action.