Out of 7.87 billion people in the world, 56.8% of the population use social networks, regardless of age or internet access.
of people under 25 go to social media first when researching brands (rather than search). We'll help you stand out. 🙇‍♀️
Social media user numbers have continued to grow over the past 12 months, with 150 million new users joining since this time last year.
Why Use Social Media ChatGPT Prompts?
🔥 10 hours
👆 This is how much time you are wasting weekly by using ChatGPT improperly. There is a better way.
🤖 But feeding the
right prompts

is key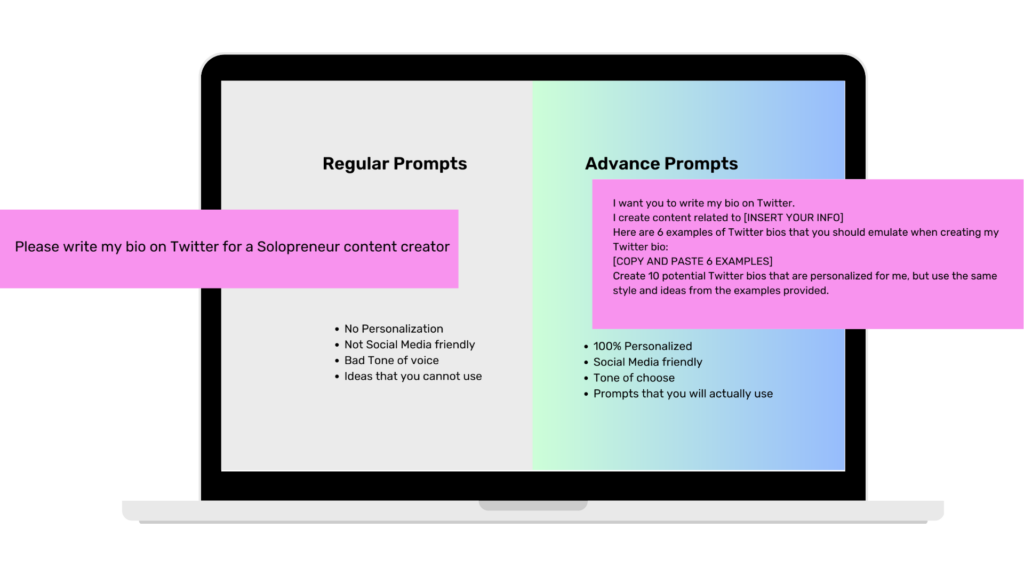 👇 All-in-one Prompt pack to create content, generate captions, and find post ideas, etc,.
Twitter bio writer
Campaigns generator
Article-to-Twitter Generator
Comment generator
Twitter content calendar
Influencer list creator
Twitter Thread Generator
Develop a series of 3-5 Instagram Reels
Instagram story idea
Viral post ideas
Instagram bio ideas
Instagram highlight cover ideas
Captions creator 
Ads copy
Post ideas generation
Content calendar
Lead generation 
Customer support 
Event ideas & planning
Compelling LinkedIn post writer
LinkedIn post structur
Trending topic generator
Cold message generator 
Tiktok caption writer
Video script writer
Challenge ideas generator
Engaging TikTok video idea creator
Tiktok ad copy
Hear what
marketers

are saying about the prompts
Use GPT to it's capacity, be your
Social specialist
A carefully curated set of Social Media prompts and real-world examples to put them into action.